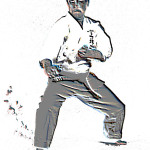 Program structure is very simple.
Join the Mattson Academy and train with Grandmaster George E. Mattson on a regular basis. How much you train is up to you and will be based on the goals you set. If you belong to a dojo and have a teacher, Mattson sensei will act in the capacity of a "coach". He will help you create and achieve your martial art goals, supplementing your regular "in-dojo" experiences. If you do not have a teacher, he will be your sensei and will guide you through your martial art studies as he has with thousands of his current and past students. . . many who now run their own successful dojo. Mattson sensei devotes most of his time now to members of the Mattson Academy. He is the pioneer of on-line training, not only for the martial arts, but for many other industries and educational organizations. Members of the academy who qualify for advanced rank, will be tested on-line through an innovative system created by Mattson and successfully used to test many senior black belts and senior teachers within the system. IUKF has implemented with Mattson, an effective "pre testing" method of working with prospective black belt candidates that is considered to be one of the best and fairest testing methods for determining whether a candidate is ready to be tested for advanced ranking.
---
NEW!!!
Special "Try out George E. Mattson's Uechi-ryu Coaching system!" Only $39.00
Determine if Sensei Mattson's Unique coaching system will Help you achieve your martial Art goals. Receive:
1. Your first detailed assignment with your first video review lesson.
2. Receive your personalized, private virtual dojo website, documenting:
a. Daily training blog
b. Monthly workout registrations
c. Workout schedules
d. Goal setting tips
e. Many other features
3. Instructions on how the program works
4. Questions answered by Sensei Mattson
Click the "Buy Now" button and Mattson Sensei will forward your sample assignment and instructions.
Nov 1, 2019. . . Note: Paypal links are not working with updated version of wordpress. Until this has been fixed, please send me an e-mail: gmattson@uechi-ryu.com and I will e-mail the requested Paypal link. Thanks, G.E.Mattson
Below – intro session =========================
If, after the tour, you wish to join the Mattson Academy, select one of the programs below.
Gold Membership ========================
*Gold Membership fee: $39 a month – All benefits except personal on-line lessons
Below – $73 Platinum ======================
***Family or Team memberships – where family or team train together – Check with Mattson Sensei.
---
Below – Arrange a meeting with George Mattson (For Gold members only)