Welcome to the all-new Mattson Academy "Virtual" Dojo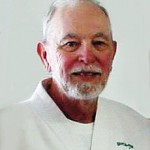 We have been working on this site for a number of years and after many attempts to design a website that reflected the unique nature of the virtual dojo program, we finally came up with what I consider to be a site that compliments the innovative and original coaching school called the Mattson Academy.
In 1958, when I moved my dojo from the Boston YMCA to its first dedicated karate space on Boylston Street, I named the site "The Mattson Academy of Karate". After a long run in Boston and semi-retirement now in Florida, I've once again created a new Mattson Academy, and a new way to supplement and/or learn the fascinating art and science of Uechi-ryu Karate.
Take a tour of the site (which is still being fine-tuned) and be sure to take advantage of my offer to personally give you a tour of the on-line dojo and my unique training program.
Regards,

George E. Mattson