So You want to study Uechi-ryu but no teacher? You belong to a dojo, but interested in expanding your knowledge?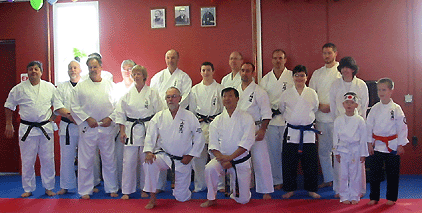 About 20 years ago I made a video tape that is still running on our Video Website. On this tape I predicted that web technology would soon enable teaching the martial arts on-line within five years!
Well, although the technology was available even before the five years prediction, few of the individuals who requested my help, had the computer equipment needed to accomplish this.
 Today, people who wish to either supplement their dojo studies or lacking a local dojo, are able to progress through the ranks, enabling them to qualify for testing by a certified test board.
What equipment do you need to participate in this program:
A video camera and tripod. (or a helper for holding and aiming the camera)
Internet access – Cable is best.
The skill to transfer a video clip from your camera to a video file on your computer.
The skill necessary to follow an internet "link" to "HighTail", where you send video clips. (HighTail is able to transfer large video files to my "dropbox" – something most internet mail services won't do.
Ability to access the "Mattson Academy" On-Line Learning Center. (A URL link I will send to you along with your password)
Ability to access your Google Apps Web site, which I will create. The site contains:Willing to establish goals and work hard to achieve them.

Your private training blog
Your private training calendar
Training tips and introductory video clips from me.
Information regarding your new "georgemattson.com" email address (use of this is optional)
Easily editible site pages which you can use for any purpose

Study video training clips from my private library collection, then practice the training element taught in the clip. While practicing, devote four sessions a month where you will film your performance of the training segment and "hightail" it to me. I review all clips and return them within a couple of days with inserted comments and suggestions where appropriate.
Willing to meet on-line occasionally for conferencing and video critiquing of lessons
Willing to practice as required to progress and achieve goals of program.
Outside of the USA, you must have a Skype phone connection. (its free)